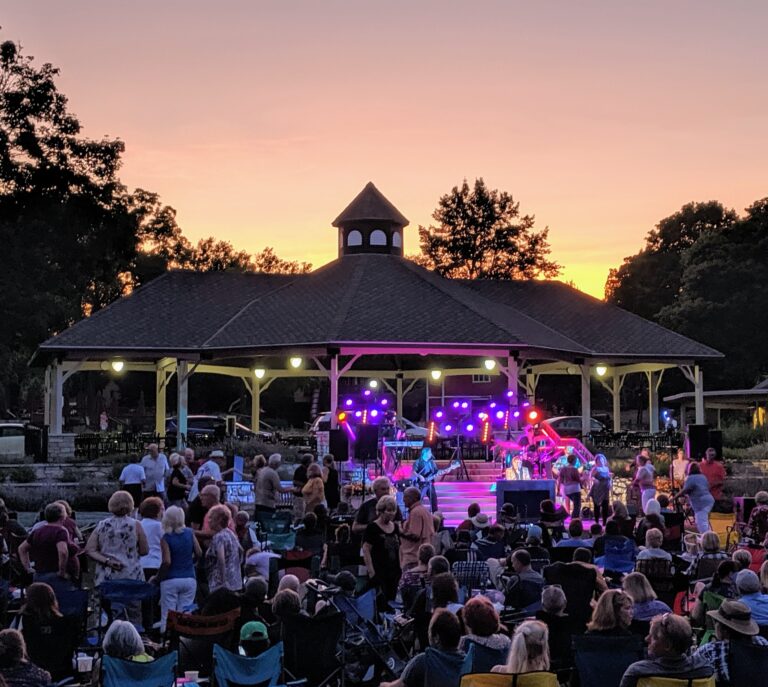 Paul Thill gets the picture.  
(Quite literally, in fact, when you consider the Sugar Grove resident hadn't seen one of our favorite images when asked: What makes Live & Uncorked so enjoyable?) 
"The setting of Blackberry Farm is idyllic, particularly on a sunset night," said Thill, a Live & Uncorked "regular," along with wife Jen. "Moreover, it's comforting to see so many familiar faces – the feeling of community is one we've missed." 
Indeed.  
After the summer of 2020 was silenced by the pandemic, Live & Uncorked returns full-throat on Thursday, June 17, at Blackberry, kicking off a seven-concert series that'll take place at 7 p.m. every Thursday through July 29. 
Dick Diamond & The Dusters – a seven-member, retro-inspired cover band with a wide selection of tunes from the 1960s to today – gets it started, followed by two-hour live performances from: 
Libido Funk Circus

 (think disco!) – June 24

 

Strung Out

 (classic '70s) – July 1

 

Billy Elton

 (legendary songs of Billy Joel and Elton John) – July 8

 

Second Time Around

 (classic rock) – July 15

 

Semple

 (70s rock to modern pop) – July 22

 

Voyage

 (70s & 80s rock) – July 29

 
"We're excited about our assortment of artists; it's a lineup we hope fans of all genres will enjoy," said Becky Harling, facility manager at Blackberry Farm. "Not only has each group established its own niche, but they're also known for entertaining crowds in ways that go beyond their instrumental and vocal talents. Even if concertgoers attend all seven performances, they won't feel like they've seen the same show twice." 
Live & Uncorked plays to the 21-and-over crowd. Guests are encouraged to bring blankets, lawn chairs, picnic baskets and their favorite craft beer or bottle of wine. Tickets are $7 per person at the door, or can be purchased online (to avoid standing in line) for $6 per person. New this summer is the Season Pass, which can be purchased online for just $35 – a good deal for those planning to attend the entire seven-concert series. 
"Season passes come courtesy of community feedback," Harling said. "That's a testament to the caliber of both the venue and the entertainment. People want to make it a weekly event, and it's a great late-week option to find a place and unwind during the busy summer."   
Each year, it seems, Live & Uncorked sheds a bit more of its best-kept-secret status, for attendance has increased each summer, last year notwithstanding due to the pandemic. 
"The beauty of it, especially for people living in the western suburbs, is it's kind of like a little Ravinia, but you don't have to drive an hour and a half to get to it," said North Aurora resident Kate Shricker. "It's live music, you can bring your picnic and the price is right. It's just a great night out. 
"There was definitely a huge void last year, and I can't wait to get back into it full-swing."