We've transitioned from contracted sports offerings to our own in-house brand – MVP Sports Academy. MVP Sports Academy offers high-quality, age-appropriate instruction for a variety of sports. MVP Sports coaches are energetic, well-trained, and focus on sportsmanship and skill development to prepare kids for league play. Programs are for kids ages 2 to 12 and are offered at Eola, Prisco and Vaughan.
Sports
Badminton
Baseball
Basketball
Floor Hockey
Flag Football
Soccer
Sports Mania
Softball
T-ball
Volleyball
Meet Our Instructors

Bradley Bibbs
Coach Bradley is excited to coach with the MVP Sports program here at the Fox Valley Park District. Growing up he played a variety of sports including basketball, soccer, tennis, baseball, and more. Bradley is looking forward to sharing his knowledge with the youth of our community.

Davaris Cheeks
Coach Davaris is a determined, organized, and charismatic student athlete that exemplifies dedication and work ethic to succeed.  He is a senior at West Aurora High School – Triple sport varsity athlete (Football, Basketball, Track) with a 4.02 GPA.

Brandon Cooks
Coach Cooks is passionate, disciplined, and loves sports.  He has an extensive background in instruction and coaching sports with an emphasis in basketball. He has experience in recruiting, scouting, evaluating, and training basketball players to help create positive culture and winning teams. He has coached teams of all ages and won 5 different basketball tournaments with AAU. Coach Cooks is excited to coach all the communities MVP's!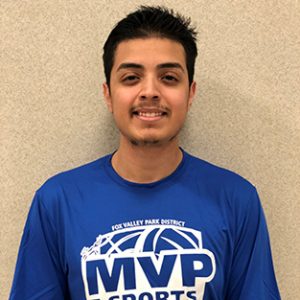 Joseph Escutia
For over a year Coach Joseph has coached multiple sports and mentored kids with the Triple Threat program in Aurora.  He has experience playing soccer and baseball as those two are his favorite sports! Joseph can tell you almost anything when it comes to soccer and baseball! Just ask him! He has trained in Mixed Martial Arts and Brazilian Jiu Jitsu.
Sidney Fedor
Coach Sidney has been playing competitive volleyball for 10 years. She played all 4 years in high school and has played the past two years at Waubonsee Community College. She was selected to All Conference and All Region both years. She also has experience working with kids of all ages at day care. Sidney is super excited to work with the youth of our community.

Josh Hall
Coach Josh played baseball, basketball & football in high school. He also played baseball at the College of DuPage.  He has been involved in coaching sports since he began high school. He has a dedication to fitness, healthy living and a love for sports.

Jack Kedzior
Coach Jack has played high school football and golf and enjoys playing recreational hockey. He loves sports and has lots experience working with kids at the Fox Valley Park District's Summer Blast Camp as well as at his church. Jack is excited for the opportunity to work with all our MVP'S!

Connor Peterson
Coach Connor has been working with children at the Fox Valley Park District for the past 5 years in various sports programs including Summer Blast Camp, Summer Playgrounds Camp, Clubbers Camp, Sports Saturday's, along with 4 seasons of coaching basketball. He is currently in his third year at Aurora University studying to be an Elementary School teacher.

Angel Ramos
Coach Angel is currently majoring in physical education with an emphasis in sports psychology and sports nutrition. He has worked for the park district doing Sport Saturday programs, and has also taught chess.

Sammi Rodriguez
Coach Sammi has played travel soccer for over 15 years with Tri- Cities Soccer Association. She also played for Geneva Community High School from her freshman through junior year where she was team captain for all three years. Coach Sammi began coaching in 2011, and is currently the head coach of a travel soccer team and attends Aurora University.

Xochitl Sida
Coach Xochitl is currently a senior in high school and has been playing competitive volleyball since 8th grade.  She also participated in basketball and soccer. In addition to playing, she has also coached middle school students in volleyball and basketball.

Chastity Smith
Coach Chastity has been playing all different sports for over 10 years. She just recently started coaching the last few years and she's looking forward to continuing coaching with MVP Sports Academy.
Mike Wall
Coach Mike is an experienced counselor and supervisor in both sports and recreation. Coach Mike is an avid Chicago sports fan and has a passion for his hometown teams. He has over 4 years of camp counseling and coaching experience and looks forward to helping all the Fox Valley program participants in reaching their goals and becoming MVP's!

Ciara Walls
Coach Ciara has earned a Bachelor's of Science in Health Studies with a concentration in Community Health. She has worked with the Fox Valley Park District for 5 years. Her experience includes working within sports, nutrition and arts & crafts programs.
Cody Wyeth
Coach Cody has a passion for all sports and lots experience working with children. He has worked with the Fox Valley Park Districts Sports Saturdays, summer camps and after school programs. Cody is excited to start working with our community's MVP's!