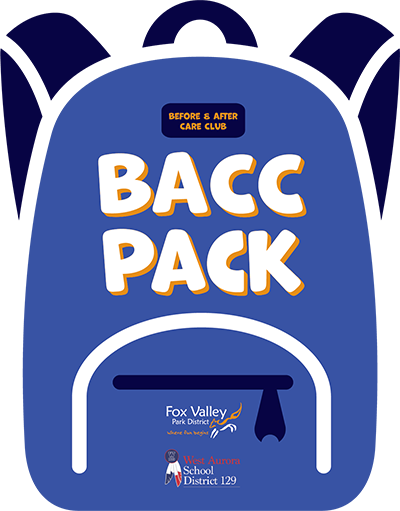 BACC Pack (Before and After School Care Club) is a Fox Valley Park District-run program at the Vaughan Athletic Center, offering both before and after-school care options, along with bus service to and from your child's West Aurora School District 129 school.
BACC Pack is designed to meet the needs of District 129 families with children in kindergarten through 5th grade. This extended care program provides solutions for families in our community, by offering a combination of homework time, arts and crafts, playtime, and after-school snacks, under the supervision of qualified, caring staff. It is our goal to provide quality care for participants before and after the normal school day.
Click here for BACC Pack Registration
Hours:
Before Care: 6:30 a.m. to 7:30 a.m.
After Care: 2:30 p.m. to 6 p.m.
General BACC Pack Info:
Before care is available starting at 6:30 a.m. until the bus arrives at the Vaughan Center. After care is after school until 6 p.m.
Flexible options for Before Care, After Care, or both
Child to staff ratio of 10:1
Activities include recreation, arts and crafts, homework time, P.E. games, and afternoon snack time
Bussing: Bussing schedules will be released one week before school begins.
Scholarship Program
The Fox Valley Park District recognizes that all residents should have opportunities to participate in recreation programs. The District offers a scholarship program to resident families who are at or below the federal poverty level. Residents who qualify may apply to receive up to $160 for each member of the family towards scholarship eligible programs each year. Application and additional information are available at foxvalleyparkdistrict.org/scholarships.
Looking for Preschool Options? Check out our Creative & Nature Play Preschool Programs at foxvalleyparkdistrict.org/preschool.