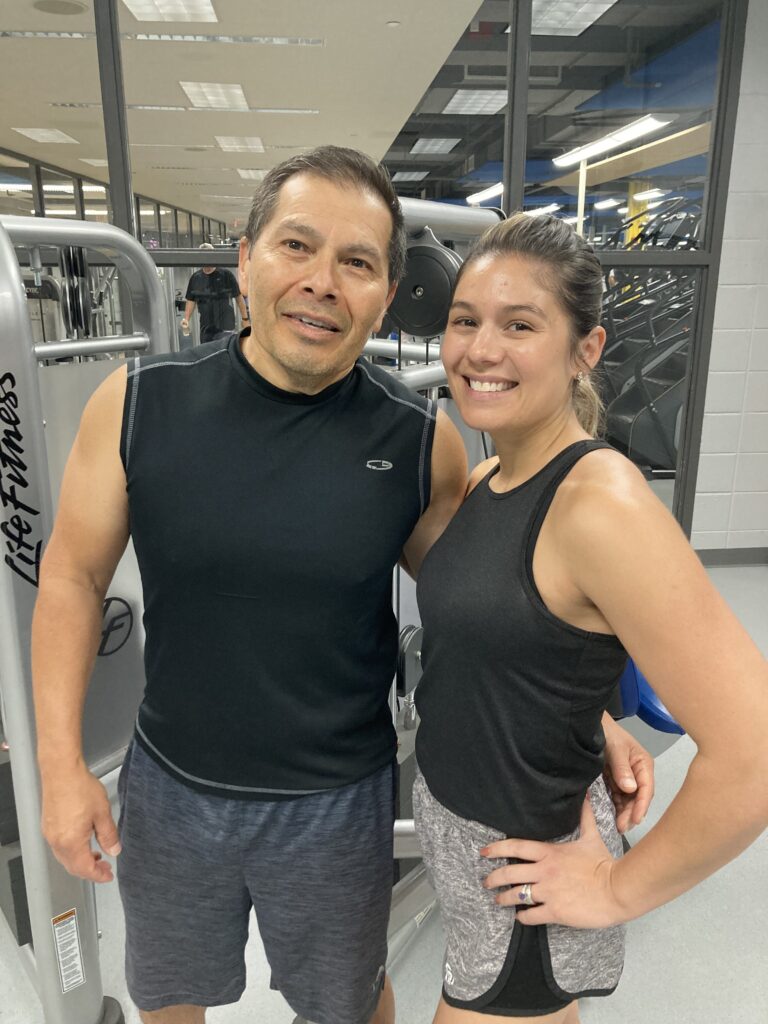 Jim Cisneros and Jeanna Corral grab a table in the upstairs fitness lounge at Vaughan Athletic Center. It's midweek, the sun's still asleep and the two workout partners just finished their last set of curls.
A visitor's here to chat about their fitness journey, to hear how it all started. There's a quick glance and shrug as if to say, "Who wants to go first?"
Jim does …
He remembers a guy in his early 40s, beat down with a lousy disposition. Too often on his mind, he admits, was a six-pack unrelated to the result of sit-ups or crunches.
"That was 25 years ago," says Jim, now 66. "I got divorced. I used to drink a lot. I was always sluggish and had a bad attitude about a lot of things. I knew I needed to do something different … I was at my lowest when I first started working out."
Jeanna answers next …
She recalls a working mom of three, her youngest a toddler on the fast-track to the "Terrible Twos." There were still some signs of a former standout high school athlete, but she was pushing 30 and had to squint a little more to see them.
"That was almost 10 years ago," says Jeanna, 39. "I wanted to lose the baby weight. And I was ready to get serious."
***
To one day tell a success story, Jeanna knew she'd need a trusty sidekick. A cheerleader, confidante, role model – a human support beam.
She turned to the guy sitting next to her. She turned to Jim Cisneros because dads provide those kinds of things.
"He overcame his drinking to accomplish so much, himself," says Jeanna, Jim's third-youngest of four daughters. "He just decided, 'I'm not gonna do this anymore.'
"It's inspiring, eye-opening, and he mentions to this day that if he wouldn't have quit drinking, we probably wouldn't be working out together … we probably wouldn't have the relationship we do."
Soon after his divorce, Jim joined a power-lifting gym to counterpunch any sneaky demons "and just blow off some steam," he says. The sober lifestyle gradually revealed a rebuilt attitude, and Jim even surprised his family, not to mention himself, by teaching an aerobics class. As area gyms opened and shuttered through the years, Jim stayed the course by running through the neighborhood – running off some steam – between fitness memberships.
"My attitude, my demeanor," Jim says, "everything was a lot different when I quit drinking and started working out."
Meanwhile, not long after her parents' divorce, Jeanna started her own family with the birth of her first daughter. The new mom was young, just 18.
"Responsibility was something my parents always stressed when we were growing up," Jeanna says. "I remember my dad telling me, 'I'm already a dad. I want to be a grandfather to your kids.'"
Jeanna and husband Abel, who today each own and operate successful Aurora businesses, welcomed two more children in the next 10 years. Her family complete and less than a year from turning 30, Jeanna, the former softball pitcher at Rosary High School, wanted some of her old self back – and she was serious enough to call Dad "because I knew he'd hold me accountable."
"They're all athletic," Jim says of his four daughters, "but she was more of my so-called foo-foo girl, so the idea of her sweating or being out in the cold like that was 'Ewwww!' But once she started running, she was the one who started pushing me!"
The two ran outside a few times a week, and it wasn't long before Jeanna saw results. "She started to drop some weight," says Jim. "Once she saw that, she wanted to tone up, too."
Jim and Jeanna joined Fox Fitness at the Vaughan Center and slowly expanded their workout routine.
"We started coming to the gym and incorporating weights," says Jeanna, who's set to celebrate 10 years of membership with her dad in 2023. "And we started to make better eating choices."
Exceptions will be made, of course, at Thanksgiving dinner when Jim hosts a traditional family potluck – more than 50 strong, including his 10 grandkids. "He's the grandpa who rolls around in the dirt," Jeanna says proudly.
***
Not all that long ago, life happened fast for Jim Cisneros and Jeanna Corral.
But for the last 10 years, when the glow of Jim's headlights hit the driveway, dad and daughter get to add another hour to their journey, another opportunity to slow the world to their own pace and enjoy the ride.
"I know I have those three days during the week when I get to see him," Jeanna says. "We get to work out, we get to have our conversations.
"We get to have our moments."
For more information on Fox Fitness, visit foxfitness.info or call 630-897-0516. We're happy to provide tours at any of our four Fox Fitness locations – Vaughan Athletic Center, Prisco and Eola community centers, and Copley Boxing and Training Center.