Tom Betsinger moved to Montgomery's Blackberry Crossing subdivision in 2010, his young family's new neighborhood flanked by a 17-acre parcel of undeveloped green space perfect for running the dogs or playing catch – two favorite activities of Betsinger's 2-year-old daughter.
"One day she asked, 'Can we go to Imagination Park?'" recalled Betsinger, a Village of Montgomery Trustee. "I asked why she called it that and she said, 'Because I have to imagine what it's gonna be like when they build it.'"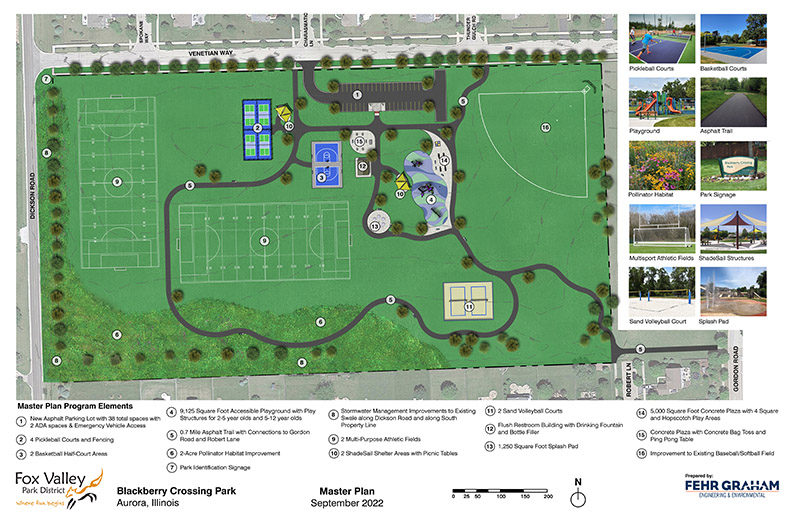 Renderings will become reality in 2023 when the Fox Valley Park District begins construction on phase one improvements to Blackberry Crossing West Park, an initiative made possible by the $600,000 awarded to the FVPD as part of the $60 million in state grants announced last week by Governor JB Pritzker. Earmarked to fund 118 local projects and help communities acquire land and develop recreational opportunities, it represents the largest round of Open Space Land Acquisition and Development (OSLAD) grants in the 36-year history of the cost-sharing program.
Phase one amenities at Blackberry Crossing West include: playground with ADA accessibility, four pickleball courts, two multipurpose athletic fields, concrete game plaza, two shade sail shelters, 0.7-mile asphalt path, asphalt parking lot with 30 spaces, bike racks, and a pollinator habitat.
"Our team took great care in selecting the recreational components to ensure that the park can be utilized by residents and visitors of every age and ability," said Jim Pilmer, the FVPD's executive director. "Neighborhood parks have been and will continue to be the building blocks of the Fox Valley Park District and our recreation system."
Construction on the two-phase improvement to Blackberry Crossing West Park – located south of Route 30 and bordered by Venetian Way and Dickson Road – is set to begin this summer. Blackberry Crossing West stands in the southwestern quadrant of the FVPD's 68-square-mile jurisdiction, its new features are designed to provide high-quality recreational opportunities as Montgomery's residential development expands westward.
"Amenities in that space are really going to change the lives of our residents," Betsinger said.
Established by the Illinois General Assembly in 1986, OSLAD has become one of the most popular grant programs in Illinois. In that time, OSLAD has awarded more than $530 million for park projects throughout the state, including the awards announced last week.
Per OSLAD guidelines, the FVPD will match the state's $600,000 and finance the project through the District's general funds. The Blackberry Crossing West parcel was transferred by the developer to the FVPD in 2020; the land acquisition and grant application were previously approved by the FVPD's Board of Commissioners.
"There's a lot of things in life we have to do, but the recreation side is the stuff we choose to do with our time," Betsinger said. "I think the park district is the main place in our communities that allows us and affords us those opportunities to recreate, relax, rejuvenate and just get back to being people."