With more than 80 acres of greenspace settled along river shoreline, at least seven natural habitats within eyeshot, and a forest of treehouses occupied by millions of happy tenants, it's fair to say "the field" portion of the Red Oak Nature Center property is abundantly covered.
Now comes the lab.
Officials at the Fox Valley Park District recently unveiled plans for the construction of a 4,500-square-foot, three-season shelter facility to stand in Lippold Park, just north of the nature center, along the scenic Fox River Trail.
Approved by the District's Board of Commissioners and paid for through existing funds, the $2.35 million new space will enable Red Oak staff "to quadruple the amount of children we can bring in here for field trips when they're in school, and day trips when they're not," said Jim Pilmer, the FVPD's executive director.
Indeed, having the bandwidth to expand environmental-education opportunities for pre-schoolers, campers and scout troops began as a bucket-list item for Renée Oakley, Red Oak's facility manager. Oakley and Environmental Education Supervisor Christy Graser in 2018 presented a strategic revenue plan to the Board that addressed the property's successes, challenges and what-ifs.
A series of studies, surveys and artist renderings followed, before a mid-January, ceremonial groundbreaking officially kickstarted the capital project, which is expected to be completed later this year.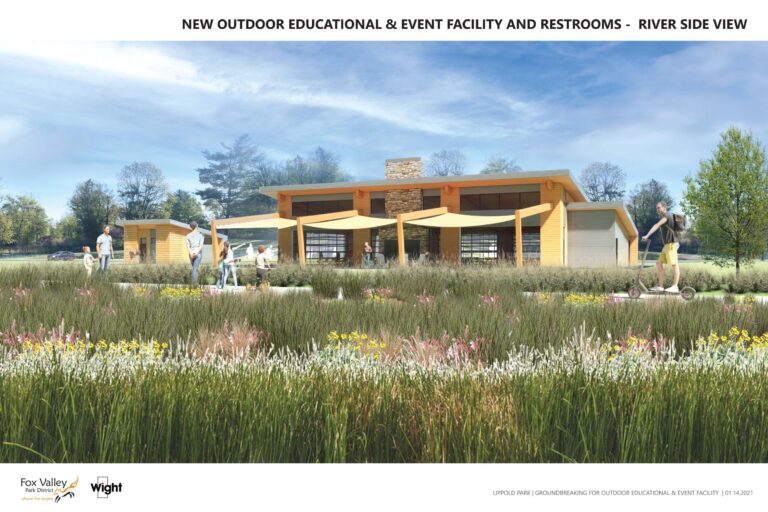 "The beauty of nature is being unpredictable," Oakley said. "And with this new building, our community can be engaged and enjoy nature regardless of what she throws at us."
Consider the new facility a nature-lover's planetarium. Its overhead windows and sections of "transparent walls" that can open/close like a garage door during inclement weather support the structure's theme: Letting the outdoors in.
"This building will highlight nature as it was intended – uncompromised and full of wonder, not to mention a whole new world of next-level learning opportunities," Oakley said. "Participant immersion in any one of our camp, scout, school or public programs held here will come without concern over creature comfort."
The facility will also include restrooms (with running water) and will be fully compliant with the Americans with Disabilities Act Standards for Acceptable Design. Additionally, the facility will be available to residents to rent for weddings, company picnics, family reunions and other celebratory events – all while enjoying the natural beauty that surrounds, whether it be from inside or out.
"This shelter offers more to our community than just a mode of protection against nature and its often-unpredictable tendencies," Oakley said. "It will be a welcoming new destination to help our community and beyond fully experience it."
For more information about Red Oak Nature Center, call 630-897-1808, visit www.redoaknaturecenter.info or stop by and see us at 2343 S. River St. (Rte. 25) in Batavia.
Groundbreaking Event Video